Many said it is going no where! Some even proclaimed it as a taboo of the decade! In fact the Government is still waging a hot war against it; despite all these, months mount months, years upon years and CRYPTOCURRENCY and BLOCKCHAIN TECHNOLOGY at large are still blowing the trumpet of success, survival and eternity. Yes, recently most (if not all) cryptocurrencies experienced a big blow from naysayers, FUD spreader and the elite but you would agree with me that in the last few days, cryptos are coming back on track and currently marching confidently with great prestige and honour of wealth reassurance.
However,With the rise of new coins in the shape of icos, many fake projects are rising placing the serious and positive minded creators and innovators of beautiful and promising projects on the hard-to-get side. However, the great and prestigious members of this great platform that have been following my posts and recommendations on ICOs would bear me witness that real projects with huge profit capacities are still out there that only take stress on us bloggers part to locate and share. I am here again to present to you another cryptocurrency that is on the move of stisfying the dire need of prospective cryptonaires in terms of investment and the whole world in terms of services and utilities. THE MDL-TALENT HUB PROJECT has been a project with sound team and great vision encoded in its services and utility.
MDL DEFINED WITH ITS GOAL EXPLAINED: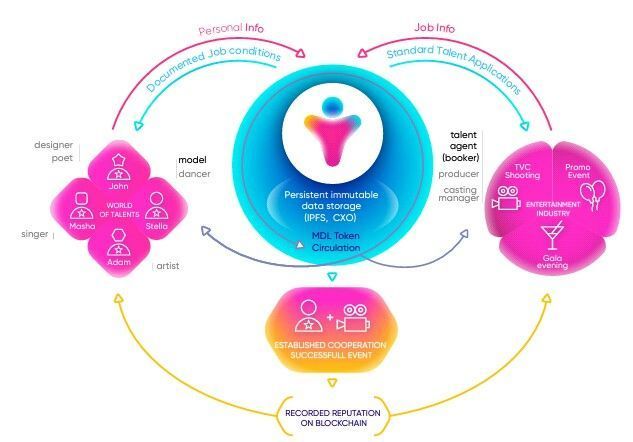 For last several decades the world economy has been experiencing a massive shift from agriculture and production to services and further to creative sector of economy as it was noted by Richard Florida, the head of the Martin Prosperity Institute, Canada. Modern technologies disrupt the economy in such a way that more and more people are left unemployed and the idea of unconditional basic income, which was earlier percivied as insane, is already being implemented in advanced countries. Very soon our society will face the momentum when routine physical and even mental human labor is not required any more for advancement. Here comes the question – what the hell will people do? MDL Talent Hub will probably not save the world, but the platform will certainly make it brighter. One of the fundamental features of the project is that it will be the medium for new jobs in the creative industry and give some meaning to the participants' life. Isn't it nice when people can nd a paying audience for their talents and monetize their time spent on hobbies? MDL will make that easier! Brave New World is already a part of our reality and people consciously or unconsciously admit it and regret having dropped their hobbies and now push their own children to learn to be more artistic. MDL Talent Hub is conceptually what should happen sooner or later and they are more than happy to be the facilitators.
Yes, MDL Talent Hub is the ecosystem designed to facilitate the talent sourcing market. Insightful expertise in both IT technologies and the entertainment industry allows them to bring the most efficient and effective medium for collaboration between artists, bookers, and brands.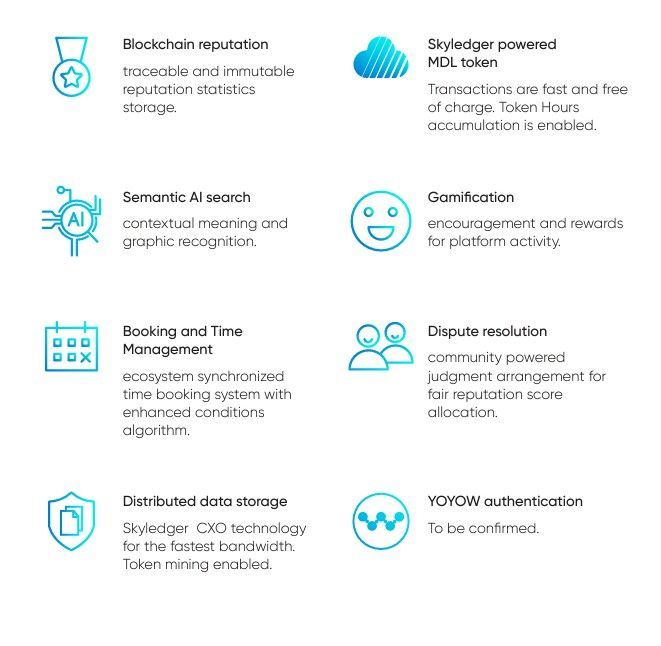 Also, MDL Talent Hub will have Token Hours enabled via Skyledger technology. Basically they are derivateves of tokens and work in the way that each hour a holder of 1 MDL Token earns 1 MDL Token Hour, for 10 MDL 10 MDL Token Hours per hour, and so on – the accumulation goes on the constant pace. At the moment they are used to pay for transactions like a gas to prevent transaction ood. On MDL platform, the Token hours can be spent on certain time-limited functions on the platform, such as pro le customization and search promotion. After the transaction is made the MDL Token Hours are burned. More technical information can be found in Skycoin whitepapers.
WHY YOU SHOULD CONSIDER THIS GREAT PROJECT AS YOUR NEXT INVESTMENT OPTION..
This project is so large and blessed with wealth of great plans that are directed at providing the audience and investors with lots and lots of benefits which are succintly highlighted below:
**PROFILE
Since they believe that a talented person can be talented in many ways, so each pro le will be able to feature several portfolios, such as an actor, dancer, origami master, or other talent portfolio. Each of these portfolios will feature suflcient presentation materials like comp cards, intro videos, and other media. Thus a booker can easily choose from the specic portfolio a talent oflers which is required for the appropriate event.
** SEARCH
Search will be available both for bookers and talents in terms that will make it easy to search for both jobs and freelance talents. We aim to make the platform intuitively simple and will listen carefully to the suggestions from our community while at the same time utilizing accepted industry standards.
**CALENDAR
A awless time management tool is essential for freelance talents as well as bookers. MDL has a nice idea of how to make one! All calendars will be linked to one database, so that bookers will be aware of talents schedules while talents will be aware of upcoming events. The calendar will be also linked to blockchain so that all events can be traced and conrmed.
**BOOKING SYSTEM
Talent booking is a complicated process associated with time pressure, unclear and shifting conditions with nal clients, an elaborate selection process, and more pain points. MDL Talent Hub is going to create a universal booking tool that can be customized for certain special conditions. We will utilize an iterative approach and constantly consult our community about various features to be implemented.
**COMPCARD CREATOR
Presentation is everything in this business, since the nal client usually has time only for a glance through media materials. We will make it easier for talents to make as well as to update a nice professional comp card using our comp card creator, which will be available and free for everyone.
**APLICATION DOWNLOADER
It takes an eflort for bookers to gather presentation materials and send them on to the nal client. And for the nal client it takes an eflort to choose among presentations and diflerent formats to spot the most suitable talent, while there is still a high likelihood that at the end of the day the materials considered will prove to be fake! With MDL this no longer be the case! First of all, we will make it easier to submit materials for client review by automatically combining them into a pdf le with all relevant information and our reputation score displayed, leaving no place for cheating.
MEET THE HOST OF TEAM AND ADVISORS: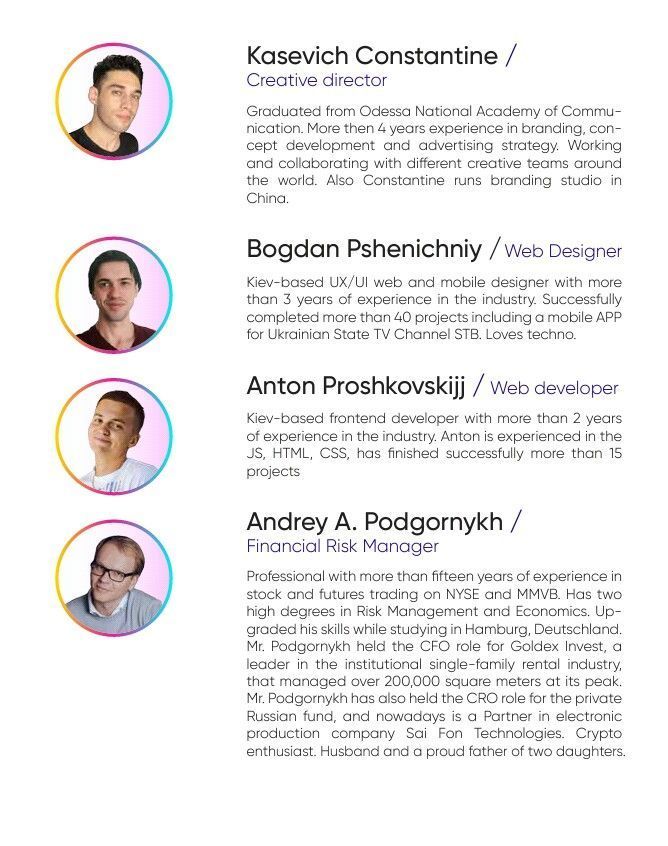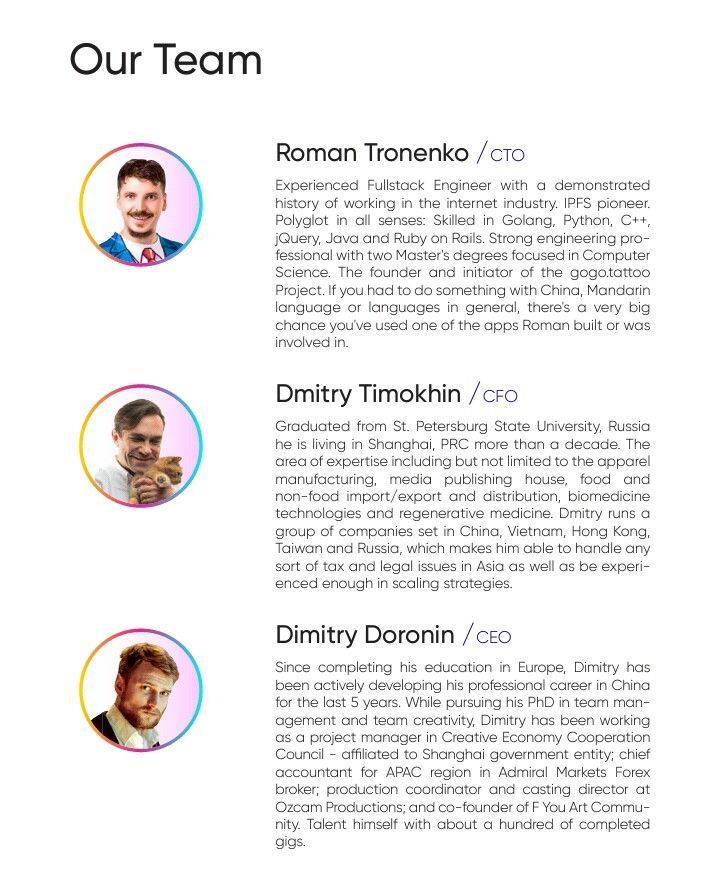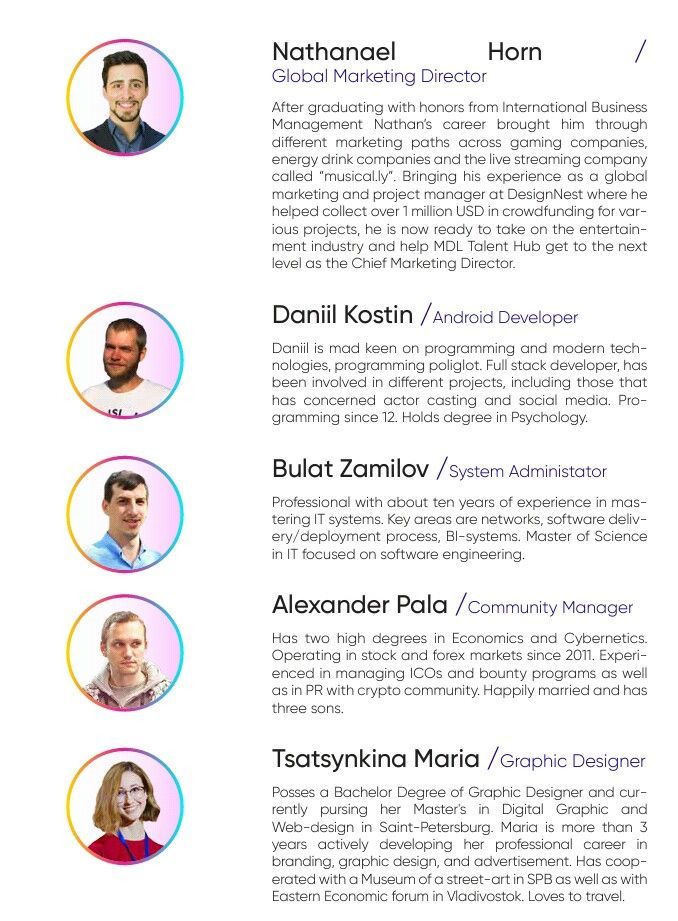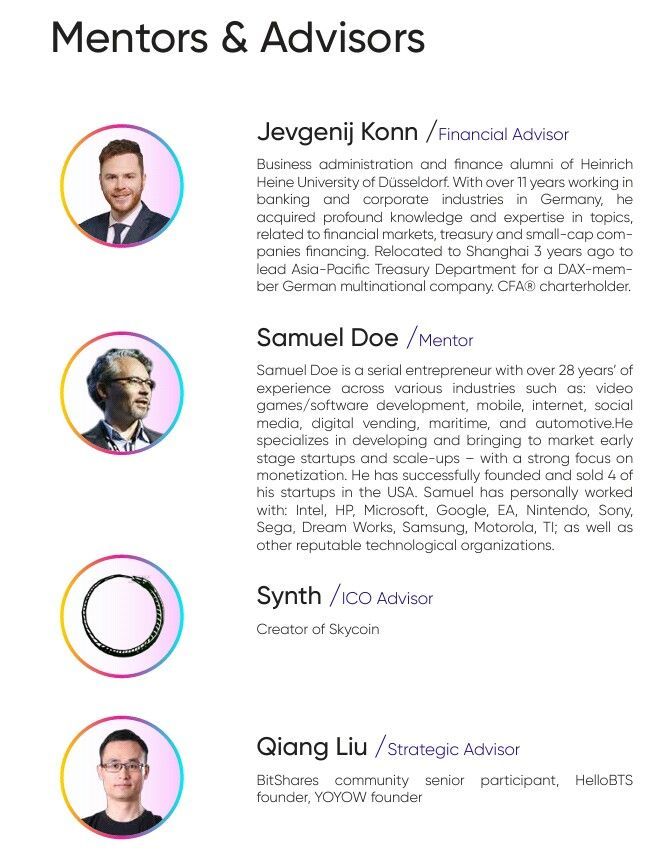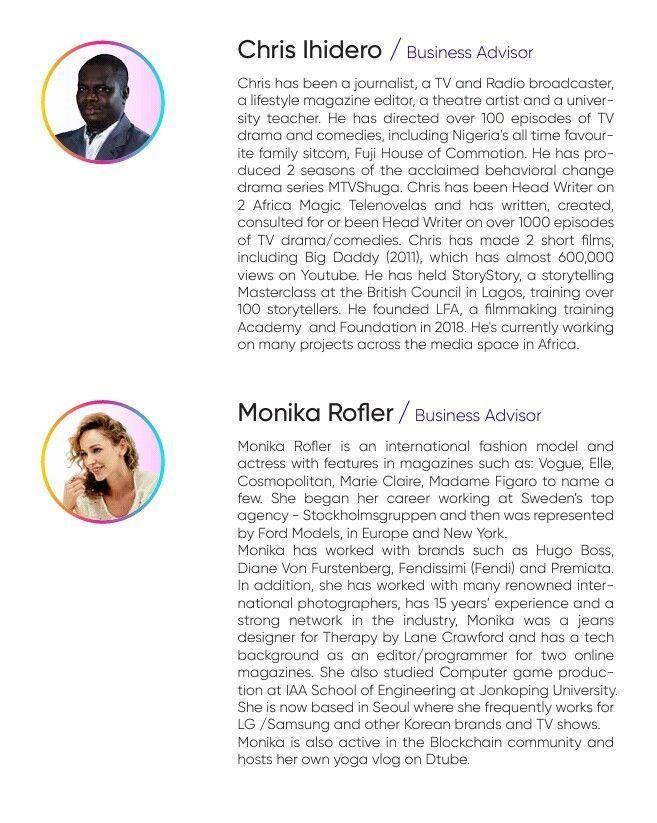 THE ICO DETAILS, ROADMAP AND WHITEPAPER:
In January 2018 they have achieved hard cap on the pre-ITO with 0.5 mln USD. During the Initial Token Oflering (ITO) that will last from 24th of March 2018 until 24th of April 2018 or until they reach the hard cap MDL (SG) PTE. LTD. is going to collect funds for development of the platform, cross-border scaling and business development and exchanges listings, as well as R&D and further implementation of block chain and decentralized data storage technologies. In order to join the ITO, participants should pass KYC (list of resctired countries is speci-ed in the crowdsale agreement) and install MDL wallet. Please visit mdl.life to proceed.
The soft cap of crowdsale is 200,000,000 MDL and hard cap is 400,000,000 MDL.
During the ITO every individual will be able to purchase MDL with ETH, BTC, SKY or WAVES, institutional investors will be able to purchase MDL also in at. On the rst seven days of ITO price of MDL will be equal to 0,03 USD, with the limit of 40,000,000 MDL, so this is your chance to have MDL token in much lesser price. From the eight to the fteenth day of ITO 1 MDL is equivalent to 0,04 USD, with the limit of 80,000,000 MDL. From the sixteenth day and until the end of ITO 1 MDL is equivalent to 0,05 USD. The exchange rates for the assets to be submitted are calculated according to the coinmarketcap.com indicators once per day. MDL Token is issued on Skyledger-based mainnet in the amount of 1,000,000,000 MDL Tokens. There are no individual max and min caps for crowdfunding. Unsold tokens will be available OTC +10%market price. All Token sale information contained in this White Paper is intended to be indicative only.
For more optimal description of the ico, the token sale and roadmap, well made shots from the whitepaper are provided below..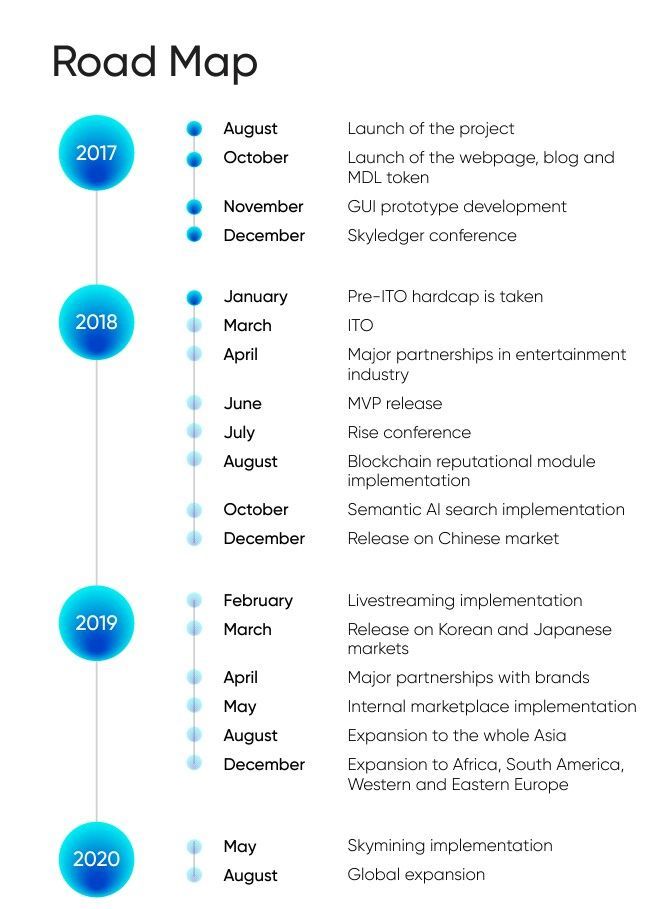 For more information and updates on this project, check the following:
PRE-ITO [12 dec, 2017 – 31 Jan, 2018]
ITO [10 Mar, 2018 – 10 Apr, 2018]
Twitter: https://twitter.com/MDL_Talent_Hub
Facebook: https://www.facebook.com/mdl.wtf
Telegram: https://t.me/MDL_Talent_Hub
Whitepaper: https://mdl.life/whitepaper/WhitePaper_eng_1.5.0.pdf
Website: http://mdl.life
My bitcoin talk profile link: https://bitcointalk.org/index.php?action=profile;u=1293393;sa=summary
My wave wallet address:
3PE1wMbifneJgMHfffsmKedqRubhpJQ6nuW